It's not often you get an invitation to Hawaii, and when you get an invitation to Hawaii, you go.
Hawaii is a US state (more on that later) that is nearly 5,000 miles from my hometown of Cambridge, Maryland, and 2,500 miles from the closest mainland US state, California. It's one of the most isolated islands in the world, dead center in the Pacific Ocean, and riiiight up on the Equator.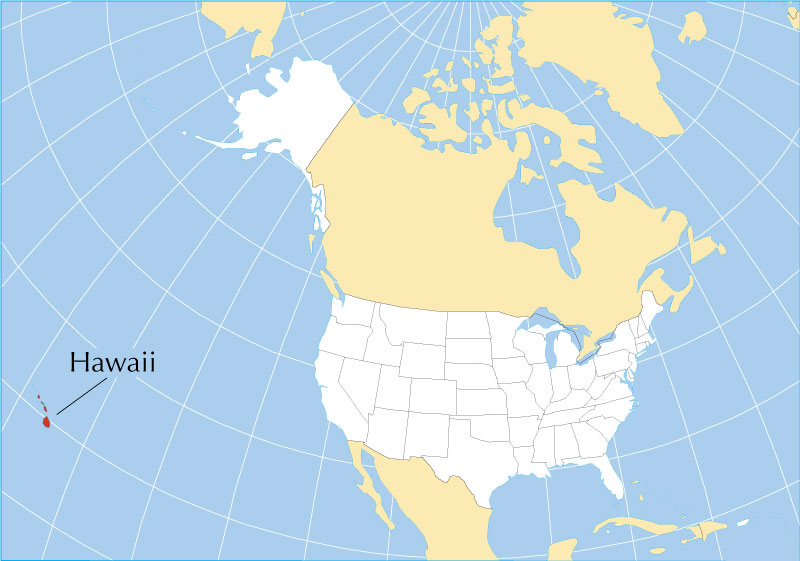 I say all this to sort of illustrate how hard it is to get to Hawaii. It's expensive! Hawaii was on my bucket list but honestly felt as inaccessible as most international travel for me. Affording the ticket is one thing, affording to stay is another. When my sister asked me to come with her to Hawaii for a wedding I said yes, obviously, it's Hawaii, but I couldn't help but feel panicked about how in the Hell we were gonna work this out.
As the days drew nearer I remember going from panic to resignation. I had just become unemployed – the contract I was under expired with no renewal – and I was still being tossed about in the throes of depression. Depression can be weird though, it gives you a strange clarity and calmness when things are falling apart. It can be the end of the world and because you've already been in an apocalypse in your mind you think, "Oh what's a Tuesday at the end of the world?" I say all this to say, I stopped worrying, packed my bag, and hopped on that flight with my sister.
This flight is notable for a few reasons. One, we were working through a lot of anxiety about the irresponsibility and disregard to others for traveling in a pandemic. We had been holed up for over a year, both got sick, and were now going on vacation? Two, Hawaiians haven't had the easiest time of it, being an island with limited resources by default of its isolation, and the demand on them by locals and tourists alike have exacerbated the scarcity. Leading up to the trip, I saw many Hawaiians simply asking tourists not to come to Hawaii at all, seeing it as a selfish act in a time that demanded selflessness. I don't have any answers to this, it's complicated, and to say I was conflicted is an understatement. To assuage my guilt, I reminded myself that I was coming to celebrate love and to leave the parts I visited better than I found it. I hope I did an okay job.
---
Once in Hawaii, we got some food and settled down in our hotel, running right into the reason for the trip in the lobby, the grooms to be! While the majority of the wedding party was planning on a night of excitement, my sister and were dealing with the whiplash of traveling 5 hours in the past. We called it a night shortly after hopping in the hot tub.
The next day was a rip-running tour of Hawaii, going from scenic location to scenic location. So it is now that I'll give you an idea of Honolulu, aka "the Big Island," and its geography.
Honolulu is an island divided in half by a mountain range (among other notable mountain ranges!). It's not even a mountain range, really, it's actually what remains of an ancient volcano. As a result, one of half of it maintains a very dry, savannah-like environment, while the other is wet, and rainforest-like. If you're unfamiliar with this kinda topographical phenomenon (it's pretty common to have a mountain cause a desert on one side and lots of precipitation on the other), imagine going from Nevada to Seattle in about a half hour, and that's kinda what it's like. While our hotel was on the dry side, much of our excursions would be on the rainy side.
Our first stops were to some local beaches all around the West side (wet side) of Honolulu. In order to do my part of slowing down tourist spread, I just won't be exact with the locations we went to – also, it's too much work to confirm that I'm correct! If you're Hawaiian, chances are you'll know each location immediately. If you're not, you'll be okay!
First my sister and I met up with the wedding party while they were getting their snorkeling on. As someone who doesn't know how to swim – but would like to – I felt the strange mix of missing out and being just fine! Indoor pools I'm okay with wanting to spend more time in but the ocean is big and scary and there are rocks and slimy animals. But either or, everyone who went in had a great time!
Next was a mini-tour to some heavily wooded beaches with fancy Banyan trees. All I could hear was Steely Dan's "Aja" while staring at them. They have a strange, fleshlike, organic way about them, their roots look like tissue and body parts… to me. I'm sorry if now you have that image in your head.
Banyan trees aren't native to Hawaii (Steely Dan was RIGHT!) but they were introduced in the late 1800s and have become symbolic not only of the trans-Pacific relationship Hawaii has to the whole of Asia, but also the Hawaiian Royal Family, who planted these trees around their palace.
Do you mind if I geek out about banyan trees for a sec?
The trees typically grow by vining around another tree (this is an oversimplification, but stay with me here!). If you've had a vine, like a golden pothos or heart-shaped philodendron, then you know what I'm talking about. These vines have aerial roots that seek out further stability by either winding around something, or reaching the ground and forming … well, ground roots. Banyan trees are trees that grow by vining around a living tree for support, and very often suffocating/crushing said tree as it grows into the behemoth you are impressed by. The dead tree ends up nourishing the banyan as it dies, and then animals go ahead and live inside it. Whatta journey! Okay, back to the island.
Everywhere we went, the ocean was there to orient us. This beach was one of the first moments I began to realize that Hawaii was home to many of the houseplants that I've been raising for years. Fig trees grow everywhere (the banyan is a fig, for example) with no issue, and if you're had a fig tree as an indoor plant, you know they're NOT easy to deal with! There was a fig tree nearby where this photo was taken, fruiting like crazy, I was in love.
We saw some wonderfully formed rock formations (again, being vague on purpose!).
This was one of my favorite sites in Hawaii, simply because it was just there? There was a small area to take photos, sure, but it wasn't a tourist attraction. It just happened to share a neighborhood with some folk, there was no parking, it was just… there. It made me wonder about all the other beautiful sights around my home that were just there. Imagine if you saw a tourist come and take a photo of your backyard?
---
This has been Part One of the Honolulu Hulabaloo! Stay tuned for Part Two!
Here's a song for you that I heard on the radio that I couldn't get out of my head. For some reason (I mean, I have a hunch), reggae is really popular in Hawaii. This song is by a local Hawaiian group named, "Rebel Souljahz."
See you in a bit!