Day 1 of the London Flurry can be found here!
Day 2: The Friendzone
Tea Time at Jackson + Rye
I head downtown in the rain and wait for Anisa at the Jackson + Rye restaurant. Although we're out and about during brunch hours, I'm the first person inside the restaurant, jamming away to their wonderful playlist of r&b.
When Anisa arrives, she brings a friend. This dude is a London and Madrid native, and it's truly a mind trick to listen to him alternate between perfect Castillian Spanish and then speak with a British accent. Ever the social butterfly, Anisa met him in Spain, and is now visiting him in London. He says he'll help us meet our sightseeing itinerary of the Big Ben and the London Eye.
We eat and drink, Anisa and I ordering mimosas while her friend complains about how we plan to walk everywhere instead of taking public transportation. He says, "That's why you guys need all that orange juice."
Anisa and I give each other a look, "Yeah, orange juice…"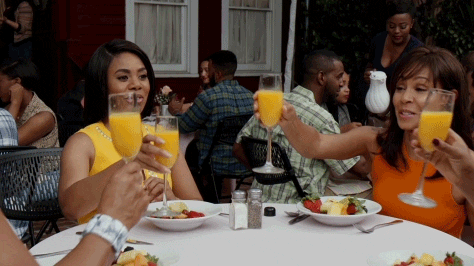 London Skies
We head out, taking photos all along the way.
Later, Anisa and I returned to our hotels/prison cells to prepare for our last night out. My flight left super early, so I had to decide whether or not to sleep in, party and come back early, or stay out as long as possible. I decided to tough it out and stay awake. I put on my heels, and met Anisa and her friend at the Zoo Bar.
I stayed up all night, went straight to the airport after getting my stuff from prison. Caught my flight and made it home before 1pm.
I think it's high time for some thank you notes.
Thank you to Anisa for letting me crash your party. Anisa is a bit more independent than me, so she had planned to visit London on her own. I had no plans or things I wanted to see in London myself (weird, I know!) so I thought it would be a good idea to go with someone. She said I could tag along and she didn't have to! Thanks a lot babe, I had a lot of fun, and I hope we can do it again some day! Hopefully when it's warmer! Oh, by the way, your friend's reeeeeaaaaaaaaalllllllyyyyy nice.
Thanks to London for letting me see just a glimpse of what it had to offer. You could have had me snowed in the whole weekend, but you let up! Thanks for that, and maybe, just maybe, we can get to know each other more.
So that's it for the London Flurry guys, please do enjoy this photo Anisa's friend took of her and I crossing the street, blessing you all with this Black Girl Magic.
Until next time!
P.S. – This blog entry gets it title from England's own Corinne Bailey Rae's song, "Another Rainy Day."