Day 2, Continued 
I get to the dock to wait for my tour boat. The Light Festival is going on in Amsterdam, with light installations all over the canals. The only ticket available was for an open boat, and I will pay dearly for my procrastination.
The Light Festival Canal Cruise
Firstly, it's cold.
While waiting outside I slowly start to lose feeling in my face and fingers.
Secondly, it starts raining, and cold rain on cold people, with wet blankets from previous trips around the canal, I start losing my resolve. I hadn't eaten yet because of my poor timing with the tickets, so I'm feeling like a a Titanic rescue the entire trip.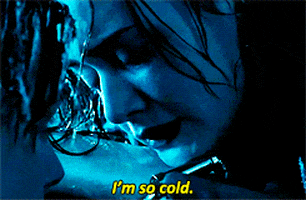 So onto the lights! The light show was fascinating. Artists from around the world put up displays throughout the canals. While some of them could be captured in a photo, I played around with the photo settings on my phone to try and show you how interesting they were.
This boat was supposed to mimic St. Elmo's fire. 
Honestly, whenever I hear the phrase, "St. Elmo's Fire," I'm reminded of one of my favorite Michael Franks songs, then I'm reminded of Fabolous rapping over it.
The next display was… well, whatever you want it to be. A lot of the art was purposely left up to interpretation.
My favorite piece out of all of them came early, called "A Necessary Darkness." A big lighthouse projected onto a building, but instead of giving off light, it gives off darkness. This piece was advocating for greater darkness, not just for our bodies (because light pollution is real and disorienting for all animals and plants), but also for our minds. Being in the dark, using your own sense of wonder is rare nowadays, so creating uncertainty should be welcomed.
[videopress 6uGQWv83]
This piece changed every day, with young children drawing new scenes on projectors, and the mural on the wall changing every time. 
This red line is an art piece as well, and appears throughout the canals.
I strongly suggest you either go to Amsterdam and see it yourself – it'll be there til mid-January, or you see all the art on the website. It's a city-wide museum.
[videopress ND0GvzA0]
Oh, and I can't forget this piece! This is called, "Lifeline." It's a laser that reflects the noises detected underwater. Here, every time the boat's engine was revved, you can see the lines jump.
There's art I'm leaving out 'cause my photos were garbage. Maybe I'll include them later? Anyway…
We de-board and I bolt off the boat, tripping up some stairs (like always) because my feet are frozen, rushing to get to a restaurant before it closes. I find myself at the Harlem Soul Food restaurant. I'm the only one there, it's maybe 11 or so, and the adorable bartender greets me. He also dashes my dreams of food by saying, "Uh, Dutch people don't really eat out in general, nor do they eat very late. Our kitchen is already closed."
Cold, hungry, but also enjoying dude's company, I order a hot chocolate and sit down. After a good convo – and after I start to feel my toes again – I decide to brave the cold again to get to my hostel.
Oh! Lemme talk about my hostel for a moment.
The Generator – Amsterdam
So my family has an outsized fear of hostels, and I can't say I understand, but I try to assuage their fears whenever given the chance. The Generator was a great hostel! It's hip, it's cool, it's trendy. I didn't even use all the amenities, but it had a lot. I ate in the restaurant, had a drink at the bar, and my room was awesome.
My only complaint was that the heat was centrally controlled, and my room was FREEZING. I asked the staff what they could do and the staffer told me, "We can give you more blankets." So I said YES. And I made a fort out of my bottom-left bunk. Much warmer.
So now we have our last day.
Day 3 – The Last Hurrah
My last day in Amsterdam is spent buying souvenirs and eating. I start with a walk to my favorite restaurant now, Bakers & Roasters, and notice how the Zwarte Piet sign I saw my first day has been painted over.
I don't know what it means but… it was interesting.
I asked for halloumi cheese on the side AND THEY GAVE IT TO ME. I was so happy.
It's at this point in the day that I realize that I have so very few photos of me at Amsterdam stuff.
Travelling solo has this one setback, you gotta get people to take photos fo you if you want them. I do my best with my own arms but I can only do so much.
That's me doing the best I can with my arms at,the "I Am Amsterdam" sign.
During my souvenir shopping, I became acquainted with the ….appropriation of Jamaican imagery for Amsterdam.
I get where they're going, Rastafarianism is associated with weed and Jamaica, weed is associated with Amsterdam, but uh… I didn't see a single soul who looked like the man in that Dutch clog during my time in Amsterdam. The rapper Aminé doesn't count.
The Saint Nicholas Basilica.
Eventually (after getting all my shopping done, losing my pass to reclaim my suitcase from the metro locker, having the metro dude look at me and say, 'You're really unlucky,' and almost missing my train because several different train aides gave me conflicting directions about where to catch my train), I make my way to the airport.
So that's that. I bid goodbye to Amsterdam with a hearty, "I'll see you soon!"
Big shout out to Generator Hostels, thank you for being so good to me and helping me find my way to the airport!
Shout outs to the canal boat tour guide, the folks at G's Really Nice Place, and Bakers & Roasters for having tasty breakfasts. Shouts out to the dude at Harlem Soul Food Restaurant, you didn't have tasty food, but I enjoyed the drinks and conversation.
What else, oh, shout out to Vincent Van Gogh for showing the world another way to experience flowers and each other.
Shout out to Aminé and Jay Way for a good show. Let's make it longer next time, kay?
Anndddddd oh, Shout out to me for having the heart to do this once. I kind of want to make a habit out of it.
But I wasn't alone, you were there too, so thanks for joining me.
This is the last of the Amsterdam Adventures. While I'm going to dissect my experience there and what it meant for me, this is the last diary of those days. I'll keep you posted if there should ever be more parts to the Adventures!
Best,