Day 2 Continued 
I get off the brunch boat and the rain has stopped, leaving behind only fog and the rising sun to burn it off.
I make a bee-line for the Van Gogh museum, only to be told that I'm too early for my ticket. I go to a nearby cafe, sip some really sweet Chai for a while, then turn around a half-hour later to be finally let into the museum.
It's crowded.
[videopress 4J08Wd3s]
While I was in the museum, I began to fully understand why they were such sticklers about allowing ticketholders in at the right time. So many people were on every floor, crowding every painting, taking photos, examining them, listening to the museum guides. I was one of them! I understand fully that I'm part of the museum crowding problem, and yet, I was all the more annoyed by all the patrons crowding the paintings. We can't all have blogs! 
I get the appeal though. I mean, for one, Van Gogh is an icon.
His life was tortured, full of so-called failures and reinventions. Everyone knows about him cutting his ear off, but few know or care to recall that the same mania that brought him to that point caused him to take his own life at the age of 37 with a gunshot to the chest. I came to the museum to see his art, as well as try to piece the man behind together.
Van Gogh had a thing for landscapes and plants. I love his self-portraits like the rest of us, but his florals and landscapes speak to the country bumpkin in me. He saw such beauty in nature.
Van Gogh's reverence for nature was something he recognized in Japanese art, which he studied and replicated on his own.
Turns out, Van Gogh left behind a lot more than paintings.
A lot of what we know about Van Gogh is because of his letters. He wrote all the time to his brother mostly asking for money and giving updates on his life, his brother Theo was his main patron. He wrote to others as well, friends, family, and other painting peers, but Theo was number one. His relationship with Theo, though they were often apart due to Van Gogh's travels, was reflected in his paintings, with some art historians believing that some of Van Gogh's self-portraits were that of his brother Theo.
Some of my favorite self-portraits…
Thanks to the internet, when I saw this photo, I immediately thought about Drake. So many miles from home, and Drake was everywhere in Amsterdam.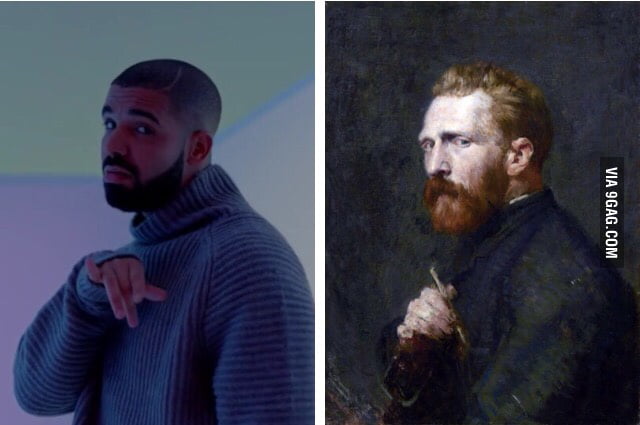 The letters had their own portion of the exhibit, but their importance in Van Gogh's life made sure that their words were found everywhere.
The ear incident, as tragic as it was, was not a focus in the museum, although a portion of a wall was dedicated to it.
The failure and ignorance of old-fashioned hospitals never ceases to amaze me. Cold water baths.
This comic book tells the story of Van Gogh's last years. I definitely bought it.
The museum wasn't the most interactive, but it did have some wonderfully informative pieces to understand how Vincent worked. This magnifier was one, in which you could examine one of Vincent's paintings to see how he applied his brushstrokes, the kinds of paint he used, and what items got stuck in the paint.
[videopress e2ooPhCL]
Ultimately, the museum was wonderful but exhausting. When every painting is a Mona Lisa, there's very little that can be done about the crowd. I saw what I needed to see (well most of it, his Bedroom in Arles was on exhibit at another museum), and I especially enjoyed one of his most important series, Sunflowers.
The museum also had a wonderful exhibit (that I was too busy enjoying to photograph) in which this painting was made 3D. They had a replica vase that you could touch, a painting replica that you could touch and examine the texture of the painting, a song mean to evoke the feeling of the painting, and a special scent created that would be what the flowers could smell like (being that sunflowers don't have a scent). It was specially created for the blind, but everyone could interact with it. What a wonderful idea!
I leave the Van Gogh museum, arms full of souvenirs, and tired of fighting the crowd. Once again, I walk back to the hostel, take a shower, and settle down for a nap.
Then I check my itinerary for my flight the next day and realize that it leaves a lot earlier than I anticipated. That means that I need to take my late-night canal tour tonight instead of tomorrow! I go online to buy a ticket and most of tours are already sold out, with the latest one leaving at 8:45PM.
I buy the only ticket remaining and get out of bed, throwing on my warmest clothes. I request a taxi, knowing the walk to the dock to take too long, and scamper out the door.
The final post of the Amsterdam Adventure coming soon!
Best,