A long, long time ago, I was super infatuated with a boy. We had a lot in common, especially music. For me, it was important that we liked the same things, but only slightly off. I learned a lot from his music, and his mine. One day, we were chatting about the artist Jamie Cullum coming to our city and how we both wanted to go. I told him to let me know so I could buy my ticket so we could go together.
No less than two weeks later did he drop me like a hot potato and the tickets were sold out. And ever since then, I told myself, "If I want to do something, I'm going to do it, and it doesn't matter if someone wants to do it with me or not."
So when the rapper Aminé ended up coming to Europe for his tour, I bought my ticket to his Amsterdam show and told myself I'd figure out the rest later.
This is my story. I call it, The Amsterdam Adventure. We start with Day One.
I pack my little carry-on and head to the airport immediately after work on a Friday. I catch a cab. The ride is expensive, and I remind myself not to book a ticket so close to when I get let out of work. I could have taken the metro and spent nothing!
About three hours later I find myself in Amsterdam. I take a cab from the airport because I get in somewhat late, and didn't want to navigate a metro system in the dark. I stayed in a hostel called "Generator." I'll talk about Generator later. But I loved it. I recommend it!
The next morning, I brave the fog of Amsterdam and head out to get some brunch.
My walk immediately brings to the forefront of my mind that I was in the land of Zwarte Piet.
Zwarte Piet, or Black Pete, is a character that accompanies Santa Claus. He harasses children if they behave poorly, and is supposed to be covered in soot…with a bright red smile and kinky hair.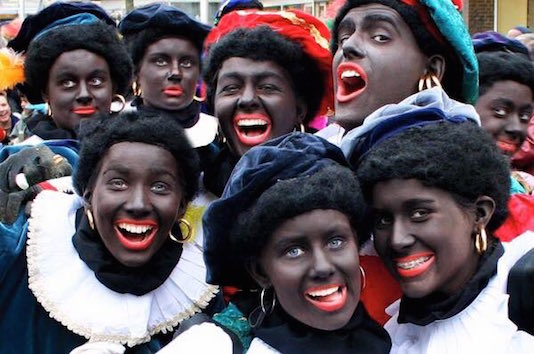 You see images of him throughout Amsterdam at this time of year, and while I had braced myself for seeing this little sambo, seeing him at 9am in the morning just minding my own damn business was a little startling. But oh well. Remember this sign, we'll come back to it soon.
The fog of Amsterdam was my first warning about the climate here. Everything is waterlogged! Everything is wet, moss is thriving under your feet, and if I was a hardy plant that didn't mind a little frost every now and, I'd be pleased as punch to live here.
But as a human, every step on the cobblestone released a jet of water to the surface, and my feet got wet pretty often.
But I make it to Bakers & Roasters and get amped up for my brunch.
Brunch at Bakers & Roasters
I chose this spot because of its fusion concept, Brazilian, American, and New Zealand food. I love breakfast, it's my favorite meal o' the day, but I'm always torn between sweet and savory for breakfast. I'm Amerrrrricannnn, my breakfast is typically a desert.
Out of guilt, I order a "Veggie Brekkie," of mushrooms, avocado, potatoes, halloumi cheese, and scrambled eggs. I promise myself that if I return here, I'm doing the pancakes.
And for the hell of it, I also order a DIY Mimosa. What's brunch without a mimosa?
After such a hearty breakfast, I face the fog once more, and get my first real glimpse of Amsterdam beyond the clouds.
Walking Around Amsterdam
Amsterdam is a city built on canals. I learn later that many of the canals of Amsterdam are man-made, with the name of Amsterdam stemming from his history of being a port built around a dam. The canals are symbolic of Amsterdam, and I see why. They're romantic. They're beautiful.
If you don't fall in love with the content of Amsterdam, you're sure to fall in love with the scenery, no matter how cold or wet.
I decide to visit some museums. I know the Vincent Van Gogh museum is here, as well as the Anne Frank House museum. I walk to them, because I don't feel like figuring out the tram or metro, and I'd rather spend my money on food. I take my walk leisurely and at a slow pace. I stop by every interesting store and go inside. Lots of record stores.
[videopress zPZ0qJos]
[videopress abwkIKwG]
I get to the Anne Frank museum and it's under construction. I would have had to get a ticket two months in advance in order to get in. I take a few photos of the building and the line and keep it moving. I head to the Van Gogh museum and I'm told that tickets for the day are sold out and to buy a ticket for tomorrow. After being turned away from there, I turn around and pass the Diamond Museum. I figure, I've got time to waste! so I pay for a ticket and go inside.
The Diamond Museum
Amsterdam was a hub for diamond refining and production, so this museum is representative of that. I don't know how to feel about it exactly. Diamond production is often supported by the pillaging of natural resources from countries around the world that cannot exactly reap what they sow. So many places have been destroyed by the exportation of precious stones that royal Europeans can wear in their hats… I don't know, I was in a mood there!
But nevertheless, I explored all of the sparkly things and played with all of the interactive dohickeys.
[videopress pg4LXrPu]
[videopress YDYH1Prs]
I spent several times trying to get this good shot, as well as several minutes taking photos in this room.
This museum has the nerve to have a gift shop that sells $40 pens. Are you kidding me? That's a plastic diamond, are you serious? No thank you.
The day is still young, so I head to another museum. What I find there, we'll chat about soon!
Best,