Hey there! Bonjour! I haven't been able to write a lot about my time in France because it was so utterly busy! Now that I have had the time, I decided to give you the details of the purpose of my trip, and everything it entailed. It might get long, so hold on tight!
You see, I did not go for school or work. I went for a seminar sponsored by the Rotary International France-USA / USA-France Inter-Country Committee in partnership with the United Nations Educational, Scientific and Cultural Organization. Our goal was to discuss, present, and participate in lectures from a variety of sources on the topic of preserving cultural heritage for peace. Rotary, as many of you may be familiar with, is an organization focused on community-based projects towards the promotion of education, eradication of diseases, and supporting education among many great causes. Rotary International, their partner organization, promotes their goals worldwide, especially their promotion of peace.
All that being said, it is these forces that brought us students together in Paris, France with the not-so-simple question:
"Can the preservation of cultural heritage contribute to world peace?"
We had several different angles with which to approach this question, illustrated by the questions we had to ask ourselves:
What is meant by cultural heritage?
Culture is both physical (statues, buildings, paintings, and so on…) and intangible (dances, music, language, and traditions). Heritage is the legacy of these things, whether they be the pyramids of Giza still standing in Egypt, or the way people worship- it's what remains and continues.
What is meant by preservation?
Sometimes art can be preserved,
well, maybe better than this. But you get the idea.
Other times, the preservation is more difficult- what if there's nothing left?
Or, what if what you want to protect, like a tradition or way of life, is being destroyed by technology or industrialization?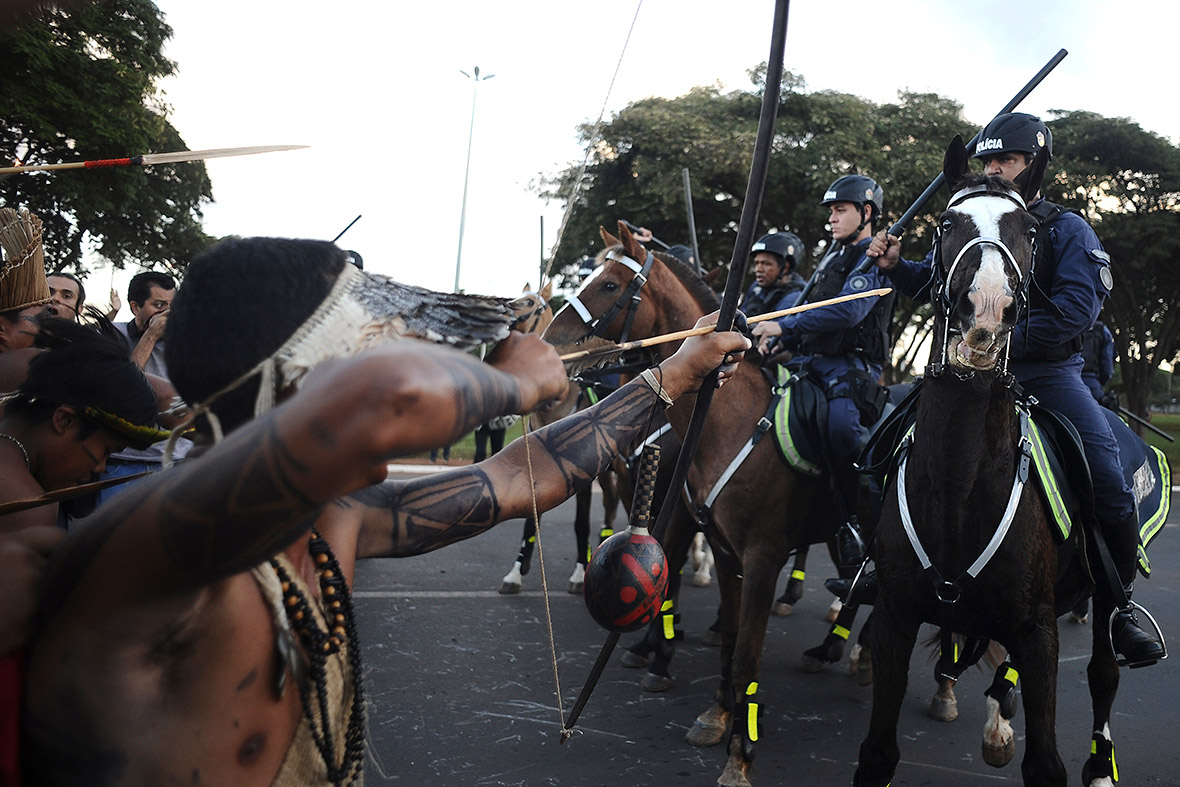 What can be done before it gets to this point? What do you do to preserve it? How can you avoid the violence that can result from its destruction or leading up to it?
What is meant by world peace?
This is a hefty question. Does world peace mean that there is no violence of any kind anywhere? Or just no war? What about the silent wars that are inflicted on people every day through discrimination and open political hostility? What is necessary to create lasting peace? What are the causes to violence? Is peace ever possible to attain? 
Rotary thinks so, and with these things in mind, we buckled down to figure out what the preservation of cultural heritage could do to contribute to world peace?
I made a beeline to the UNESCO World Heritage List.  UNESCO is an agency of the United Nations focused on education, science, and cultural programs, among many other things. They have an ongoing list of places around the world that mean something to the heritage of humanity, as well as a relatively recent list of intangible heritage to be acknowledged and protected. The United Nations keeps note of cuisines, traditions and sports, as well as endangered languages.
There's countless documentaries and books about endangered languages, languages that are falling out of use with time. I decided to look at home in the United States, and study a language that was a good example of a language that was nearly extinct but is coming back, and I found Hawaiian. My French presentation partner, Ludivynn, did the same with a language that's being pushed to the side and forced to remain isolated, the language of Corsica.
I think Ludivynn and I did an awesome job. I don't know about you, but I think minority and endangered languages aren't spoken about enough until it's too late – until there's violence  or intense cultural degradation or protests. Aside from the intellectual, uniquely cultural, and practical benefits of a group of people maintaining their native language, speaking in your native language just feels better. It's the going home and taking off your work clothes feeling. That going back home to see your grandparents feeling. It's all that times ten.
Besides our presentation, we participated in exercises of international negotiation – How can you get governments, terrorists, minority people, military, and foreign powers to agree on one thing? If you've been keeping up with the news lately, you'll know about  the turmoil going on in the world, peace treaties that fall through, governments that are unable to take action for the benefit of civilians, and you've probably wondered – why can't *we* do anything? It's never simple, and negotiation is an aspect of international relations that I'm not the most familiar with, and it's extremely eye opening. Representation is so necessary. Everyone needs to be at the table so that their desires and needs are known, so everyone can get a little of what they want. It's hard!
We also listened to presentations from US diplomats, a company that is cataloging physical world heritage sites in 3d renditions, and UNESCO representatives. 
 My brain was tingling from all this knowledge!
**************************************
Because my trip to Paris wasn't a typical adventure for me, I got to know Paris in a different way than I've got to know other places. I visited Paris as …a professional? I'm no longer in school, and I now work more than I study. When I went to Paris, I packed business casual and professional clothes. I got on the plane by myself, stayed in a place alone, and met with my "business partner" Ludivynn. We collaborated and created a presentation together about cultural heritage, presented it to an international crowd, and got our papers published in a booklet about cultural heritage as an instrument for peace. I really enjoyed my time in Paris, and I feel like I learned a lot about myself. Hopefully these types of events are something I can do more often in my career.
I say in the title that this was a practice run, but I did it for real, in real life! What an amazing opportunity!
So here's where I'll stop talking your head off, and write my thank you notes-
Thanks so much to all the good folks at Rotary! From Mike Burton and the representatives at my local Rotary in Towson, Maryland, to Dr. Bart Cleary, Kristin Brown, Jean Marie Poinsard, and Claire Bisaux. Without my local Rotary's endorsement, Bart Cleary and Claire's patient emails coaching me on my topic and coordinating my stay, and Kristin and Jean Marie's enthusiasm for our cause, I doubt I would have had such an enriching time. I think we made a good dent in discussions of peace. We only need to have another one, two, or 50 of these events and then the world'll have peace!
Another merci beaucoup goes out to my family, friends, and former (more like perpetual) professors that coached and supported me as well! I took a lot with me on my way to France, from adulthood tips on independence and safety, to academic concepts like the Sapir-Whorf hypothesis and a well-defined understanding of glocalization (if you've ever been abroad and thankful to see a McDonald's or Starbucks, you can relate to that understanding). You all have made me wiser, and I hope to keep building on the lessons you've taught me for years to come! I take you all wherever I go!
Whew! That was a lot! Once again, thanks so much for reading! I can't wait to take you on my next trip!
À plus tard! / See you later!
~`*Tina